Market study provides data showing value of newspaper media advertising
After listening to about 20 minutes of a Coda Venture presentation on the 2021 Market Study, Sam Hanna, Jr., was sold.
In particular, he saw the value of using the survey data when talking to clients.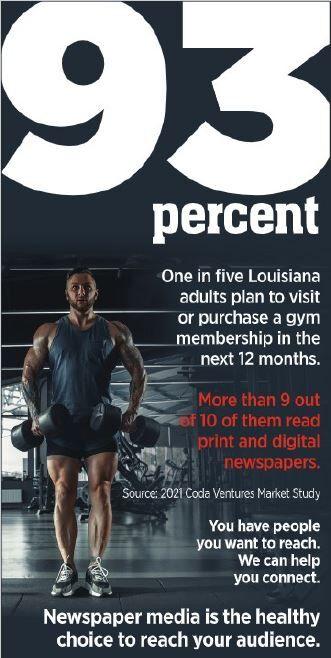 "We don't have anything even remotely as detailed as this," said Hanna, who is president of Hanna Newspapers owner and the Louisiana Press Association board of directors. "This could be very helpful."
Although the market study touches on several factors – including audience profiles on activities and public notices -- the May 20 webinar was focused on a specific aspect the independent media research company collected data on: "Turning Research Into Ad Revenue."
"(W. Edwards) Deming has one of our favorite quotes: 'In God we trust, all others bring data,'" Coda Ventures President Marianne Grogan said. "He said that in the 50s and that is so true today. You have to bring data when talking with advertisers."
And for newspaper media, "The numbers are really pretty wonderful," Grogan said.
An example is newspapers' strong readership: 3.2 million active consumers read print or digital newspapers in Louisiana in a month. Digital readership, which includes website visits, email newsletters, apps, social media, etc., accounts for 77% of newspaper readers, which outpaces print readers.
But print readership remains strong, notably in community newspapers, with seven out of 10 Louisianans going to the legacy product.
Of note, more than eight of 10 Louisiana adults said that newspaper advertising is important -- nearly more than 2-to-1 over radio, social media and magazine advertising.
One reason the numbers stand out is that the newspaper reader profile is not what some might expect.
"We like to say that the newspaper reader isn't typical. Most people think it's "your grandfather's newspaper,'" Grogan said. "... 81% of newspaper readers are under the age of 65, granted most of them are digital, but a lot of them are strong print readers."
More people ages 18-34 access newspaper media than baby boomers. Other data about newspaper readers include:
62% of households make more than $50K
73% are homeowners
79% are college-educated
In short, newspapers have an affluent, educated and invested audience. What advertiser doesn't want a client who has money?
In addition to statewide numbers, Coda Ventures can break the data down by market, and they showcased a market profile of the Abbeville Meridional, including market demographics, local market audience profiles, and marketing category profiles such as banking and automotive.
An example of a marketing category profile: One-third of Louisiana adults plan to purchase home furnishings in the next 12 months. More than 9 out of 10 of them read print and digital newspapers.
"We think it really makes the data you've invested at the state level more actionable on the local market level," said Craig Besant, Coda Ventures vice president.
The cost to have an individual market study is $300 per publication, which includes turn-key sales sheets based on the publication's logo and color scheme.
Hanna plans to purchase market studies for all three of his newspapers.
"I'm going to take advantage of this," Hanna said.
Members interested in market-specific data can contact Craig Besant at craig@CodaVentures.com or 847-707-1376.
Even if members don't take advantage of the individual market option, LPA will be providing assets based on state data, including house ads, deeper audience profiles, slide decks, and one-sheets that members can use.
If you have questions, please contact LPA Executive Director Jerry Raehal at jerry@lapress.com or 225-351-0702.