The Louisiana Press Association has entered into an agreement with the Florida Press Association -- powered by the software company Quion -- to create and maintain LPA's new public notice portal.
The first step in the transition includes Quion working with LPA's current public notice provider, Arizona Newspaper Association, to transfer data between the current system and new one. Additional details and next steps will be sent to members after the data transfer. The new system is expected to go live in early to late March.
LPA started looking for a new public notice provider in November. The search became a priority shortly thereafter when ANA notified its clients in late December it would stop service at the end of March.
ANA has hosted the LPA Public Notice Portal through its platform for nearly two decades. The importance of the Public Notice Portal increased after legislation passed in 2015 requiring newspapers to post notices to the site.
LPA researched a variety of options, seeking a partner who could help LPA meet its needs now and into the future.
"Public notices have been under attack for years, and we expect that to continue," LPA Board President Sam Hanna, Jr., said. "We were looking for a partner who could not only help us react, but also be proactive to ensure public notices remain in newspaper media as it is the best source to provide information to residents and to ensure government transparency.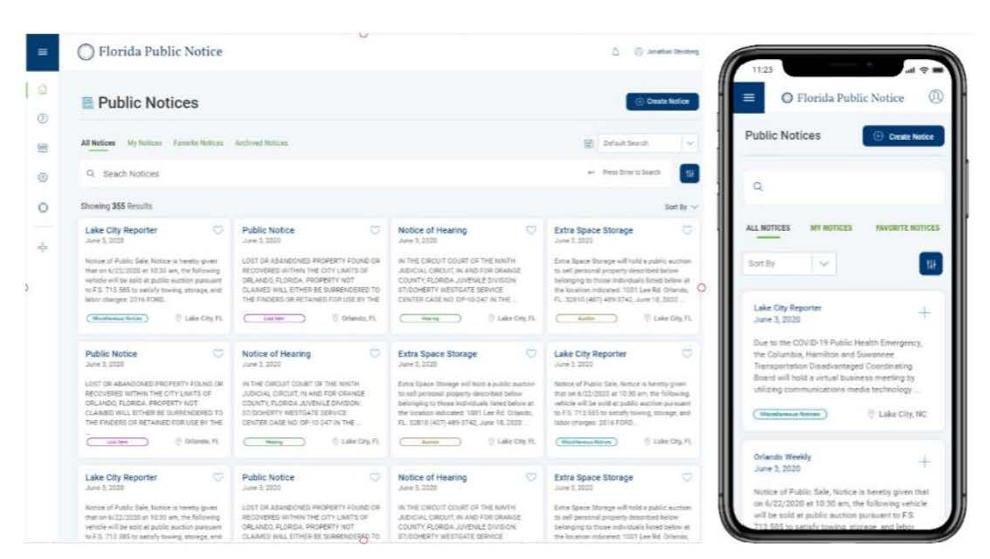 "Florida Press's option, powered by Quion, provides us with that."
Quion has supported previously established public notice software since 2013. The new LPA public notice site will be a set-up Quion created at Florida Press Association's direction. The FPA was the first to launch the new site concept on Feb. 1. Other press associations that will be using the FPA's Quoin-powered system include North Carolina and Maine.
The system is focused on user-centric design, and includes:
Mobile responsive design.
Improved search features and results.
User smart search that includes email and text notifications.
English and Spanish language user interface.
User settings dashboard that also allows light-mode and dark mode options.
And a mapping feature has been started.
The new site set-up offers "public notice to readers where they want it, how they want it, and when they want it with better searchability, a more user-friendly mobile experience," said FPA CEO and President Jim Fogler.
Newspapers will be able to upload in three formats: a web portal for a single notice; a web portal for batched notices; and a FTTP upload option, which can be automated.
LPA Public Notice Portal creates an online clearinghouse for government agencies' notices across the state, creating a one-stop place for users to find public notices. Additionally, the printed versions of public notices that appear in newspapers are the official legal documents, which creates a third-party protection for the government and residents.
In addition to the updated features of the new portal was Florida's and Quion's commitment to keep updating the site with features.
"Since public notice portal providers first launched over the last two decades, there have been almost no updates to those systems while the rest of the internet has been evolving," LPA Executive Director Jerry Raehal said. "Our next partner had to be one that would be actively working to keep the technology up to date with current demands."
If you have questions or comments, contact Raehal at jerry@lapress.com or at 225-351-0702.