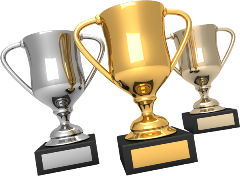 The Advocate, the Daily Comet, St. Tammany Farmer, Pointe Coupee Banner,and Central City News earned Newspaper of the Year honors in their respective divisions in the Louisiana Press Association Better Newspaper Competition for 2020. LPA members competed with one another for bragging rights and distinction in a variety of categories, for work produced during 2020. The Maroon (Loyola University) earned Newspaper of the Year in the Collegiate Division.
The designation for the Newspaper of the Year is based on the number of points earned in the Better Newspaper Competition for 2020, with awards being given in individual contests for first, second, and third places.  The editorial contests range from news story writing to graphic design while the advertising entries were judged based on design, creativity, and effectiveness. The Colorado Press Association judged the competition this year.
Forty-four LPA member publications, along with college, and university student newspapers submitted 973 entries.
Freedom of Information Competition
In the Freedom of Information Competition, The Advocate was the winner, writing about Victor White, who was shot while handcuffed in the back of a police car.
When Victor White III was found shot to death while handcuffed in the back of an Iberia Parish sheriff's patrol car, it raised eyebrows in the rural parish known for brutal, racist policing.
White was a black man, and his death would prompt a federal probe that put 11 deputies in jail and led to the sheriff retiring.
The coroner ruled the death a suicide and state and federal prosecutors declined to pursue charges.
Eventually, the sheriff's office settled a suit with the mother of White's minor child.
Reporter John Simerman of The Advocate had been covering the scandal in the Iberia sheriff's office, and he requested the details of the settlement, including the amount paid.
It should have been a routine case, but the matter languished in court for two years, and it took the intervention of the Fifth U.S. circuit court of Appeals in New Orleans to shake the records loose. The Advocate and its TV partner, KATC-TV, requested the records in March 2018, but it took until May 2020 before the public learned the truth about the settlement.
In the end, Simerman revealed that the sheriff's office paid $325,000 to settle the case, which is nearly $5 for every man, woman and child in Iberia Parish.
For a pdf of complete list of winners in all categories, click here.