J. McHugh David, publisher and managing editor of The Livingston Parish News (Denham Springs) was named president of the Louisiana Press Association (LPA) at its annual stockholders meeting June 30.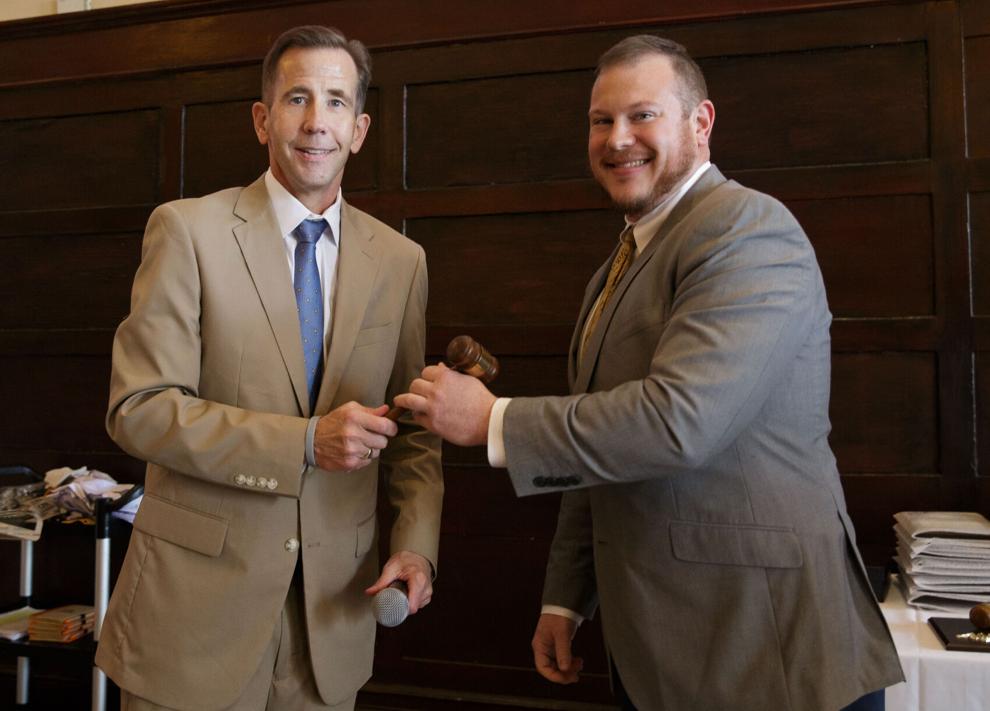 David is the 116th president of the 140-year-old association, the official trade organization for Louisiana news publishers.
Louisiana Press Association is a statewide organization representing more than 150 newspapers, news-related publications, news websites, magazines, and special market products.
Others taking office were:
President-elect Mary Terry, general manager of the Southeast Region for Louisiana State Newspapers and publisher of the (St. Martinville) Teche News, (Franklin and St. Mary) Banner-Tribune, (Morgan City) Daily-Review, and (Pierre Part) Bayou Pioneer;
And Secretary-Treasurer Steve Colwell, general manager of the Natchitoches Times and Natchitoches Times Newspapers (NTN) which publishes nine newspapers and three specialty publications in Louisiana.
Sam Hanna Jr., president, and publisher of The Ouachita Citizen (West Monroe) will serve as Past President.
Elected to three-year board terms were Shanna Dickens, general manager of The Daily Iberian (New Iberia), and Dan Phelan, president, and publisher of the American Press (Lake Charles).
Continuing to serve on the board are:
Dan Shea, CEO of Georges Media Group, which operates The Advocate (Baton Rouge), The Times-Picayune/The New Orleans Advocate, St. Tammany Farmer (Covington), St. Francisville Democrat, and The Watchman (Clinton);
Garland Forman, general manager of the North Region for Louisiana State Newspapers and publisher of the Ville Platte Gazette, Basile Weekly, Kinder Courier, Oakdale Journal, Richland Beacon News (Rayville), Caldwell Watchman (Columbia), West Carroll Gazette (Oak Grove) and Tensas Gazette (St. Joseph);
Marc Richard, vice president/director of Newspaper Service Co. which publishes the Ruston Daily Leader and Jennings Daily News;
Judi Terzotis, publisher of The Advocate (Baton Rouge), The Times-Picayune/The New Orleans Advocate, St. Tammany Farmer (Covington), St. Francisville Democrat, and The Watchman (Clinton);
Darrell Guillory, publisher of the Eunice News and COO of Louisiana State Newspapers, which publishes over 20 Louisiana newspapers and
Randy Brown, publisher of the Bossier Press-Tribune (Bossier City).
A family tradition 
J. McHugh David Jr. is president and co-publisher, alongside his mother Nancy, of the Livingston Parish News, which has been in the David family since his grandfather purchased the property in 1962 from his predecessor, Leroy Miller, allegedly on the back of a cocktail napkin at the former Giamanco's restaurant in Baton Rouge.
McHugh assumed the co-publisher position when his father, Jeff McHugh David Sr., died from cancer in October of 2015. McHugh's father had been the longest-tenured publisher in the history of the paper, beginning in 1977 after his father, G. Norman David, died from a heart attack. McHugh followed both his father and grandfather's footsteps and became immediately involved with the Louisiana Press Association, as well as the National Newspaper Association. He is involved with the legislative committees on both levels and has been an LPA board member since 2018.
Since stepping into the publisher role in 2015, the News has been awarded a wide variety of recognition from both the LPA and NNA, including one of the largest national hauls the paper had ever received – 38 NNA total awards in 2019, including 'Newspaper of the Year' in Class 2.
McHugh graduated from Sewanee: The University of the South in 2009 with a degree in economics, where he played football all four years.
McHugh grew up in the newspaper business, beginning as a janitor and clerk for his father at age 9. He continued to work in layout, basic reporting and as an assistant pressman before leaving for college in 2005, working summers in pagination during his time at home. Upon graduating, McHugh worked in manufacturing with his mother until the Chinese bought them out at the end of 2010 and has worked at the Livingston Parish News since as a news reporter, sports editor, and salesperson.
McHugh is a graduate of the Leadership Livingston Class of 2014, and was awarded the 'Above & Beyond' award by his peers; a graduate of the Dale Carnegie Course, and was awarded the 'Highest Award of Achievement' by his peers; a 'Livingston Parish Future 5' award winner from his local Chamber of Commerce; a former President of his local Rotary Club; and a notary public.
McHugh has three step-children with his fiancée, Melanie: Jesse (22), Caleb (19), and George (14).
LPA was founded in 1880 as a trade association uniting the state's daily and weekly newspapers.
The organization represents the state's news publishers in the legislature as well as providing educational services and acting as an information clearing house. It promotes advertising in newspapers and on news websites, in magazines and other publications and media through its marketing service that provides a variety of services including its popular one-order, one-bill service for clients.
For more information contact:
Jerry Raehal
LPA Executive Director
225-235-0702